Hope y'all had a nice and short week. Let's back up to LAST Friday.
Kelley (co-worker/friend/big-sister-figure-with-mom-tendencies)
and I decided to throw an

office baby shower.
Office baby shower? You're probably thinking helium balloons
and a Publix cake? Not so much. There was no detail left undone.
All while being hosted in our office conference room.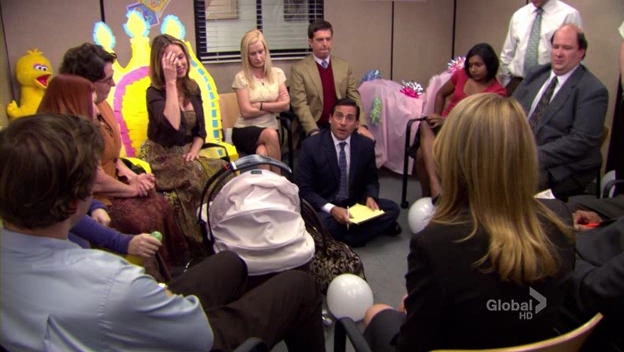 Let's start with the first glimpse:
theme the nursery in kind of a "prep" navy blue and
kelly green alligator theme.
After searching through tons of baby shower ideas-
everything from football to wales to owls to nautical
(also really liked the nautical theme!)
we decided to keep the shower consistent with the nursery.
We obviously wanted the table to be the focal point.
Well, let's be honest we didn't have that much to work with.
We removed all of the

"not-so-festive"

conference room decor
and replaced it with burlap,
beautifully hung tissue balls
(Kelley is super crafty) and
a few adorable banners/print outs from her Cricut.
With a little inspiration from Pinterest, the banners
The tissue balls really brought everything together.
Having something hanging (or floating) tends to even out the decor.
In the past, balloons have typically been used, but news flash:
Tissue balls are the new balloons.
Sorry party stores =/ who spend tons on refilling the helium tanks,
but balloons are just obnoxious. I'm positive that I have risked pulling out
in front of another vehicle due to lack of visibility at least ten times.
Check out this tutorial on making tissue balls.
I didn't have enough faith in my tissue-ball-making skills
yet so fabulous Kelley is responsible for these as well.
We didn't want to go super overboard with favors or anything,
but cake pops are such a quick and easy favor.

And they're cute.
The cupcakes were a very standard chocolate and french vanilla
but we decided cupcakes would be more ideal for a quick office
baby shower (rather than a cake).
The cupcake toppers also came out just too stinkin cute.
These we also saw on Pinterest. Kelley decided to
alternate alligator toppers with a monogram "C."
For beverages we used the ever popular
mason jars, with navy striped straws that Kelley ordered from Esty.
I stumbled across a "Swamp Water" concoction that caught my eye
because I thought it would go super cute with our theme.
It's lemonade and a few drops of green food dye. Fear not.
The shower turned out super cute.
And there wasn't a phone call made into the office that went unanswered.
Bottom line:
Office baby showers are possible.
View our Pinterest board for more Alligator Themed Baby Shower ideas!
It's Baaaaccckkkk! :):):)
Just for the record:
Can someone either confirm or deny whether or not Starbucks
can actually make this fabulosity year round?
After making a huge deal on almost every social media network possible,
the general consensus was that I am an idiot for anxiously waiting
until September. I was told by MYYY Starbucks that
they don't carry the syrup year round but other locations do?
Very confused. Content :) But confused...
Happy Weekend y'all.