Nothing about today feels like Friday and lucky for Florida,
we have hurricanic (yes I made that word up) winds all weekend yayyeee!
Let's see if we can multitask here, shall we??
First off,

5 days until Halloween

!
I'm keeping today's treat easy-peasy because
quite frankly, I have a UFO Pumpkin beer screaming my name.
You will need:
1. Preheat over to 350 Degrees.
2. Arrange a single layer
of mini pretzels on a cookie sheet.
3. Place chocolate on pretzels,
making sure there is approximately 1 inch between each.
4. Place cookie sheet in oven for 2 minutes.
*The Hugs melt faster than the Kisses,
so make sure you watch them!
5. Remove cookie sheet and quickly
push a candy corn over each piece of chocolate.
6. Allow candies to cool in the freezer for 5 minutes.
Now let's write some Friday letters!
Dear Hurricane Sandy, you are ruining my weekend plans.
Also, please make up your mind.
Are you not going to rain?
Either way, this better bring a cold front!
I have a cuuuutecutecute scarf I want to wear like yesterday.
Dear Jake, you are going to look *SO* handsome tomorrow
I can't even express the amount of treats that
will be coming your way if you behave! :)
Dear Paranormal Activity 4, uugggghhhhhh.
I haven't slept in a week because of you.
I mostly keep thinking that I see
a dark shadow standing in my room once I
lay down to go to sleep. If that's not
terrifying, I don't know what is.
Dear Trick or Treaters, I'm so ready for yall!
I promise I'm going to have the best candy on the block!
Also, excuse my drunkenness. I may or may not
be downing a Tervis Tumbler of Moscato while passing out candy.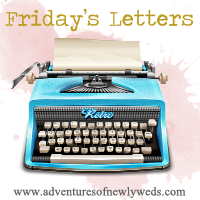 Go link up and I'll see yall tomorrow for some more treats!